Athimadhuram powder - 100g

Sale
Rs. 260.00

Regular price

Rs. 360.00
Vendor: Happy Herbals Offical
Type: powder
Sku: null
Available: Available
Currently there are
peoples are currently looking at this product
DESCRIPTION : 

Athimadhuram, also known as mulethi is one such classical ayurvedic remedy that has a centuries-long repute of being the ultimate grandma's remedy for cough and sore throat.
This traditional herb exhibits manifold benefits and is extensively used in several folk remedies and classical ayurvedic formulations to treat respiratory problems, obesity, skin infection, liver disorders, gastric problem, hormonal regulation, general debility, joint pain, and many more
Benefits And Uses :
Promotes Digestion:
Athimadhuram powder is an excellent digestive herb. The anti-flatulent property of the roots reduces the formation of gas in the alimentary canal, thus reducing flatulence, bloating, and abdominal distension. It also increases appetite, reduces indigestion, and promotes better absorption of nutrients in the body higher concentration of fiber in the root powder, makes this a potent remedy for constipation and other digestive issues.
Remedies Respiratory Troubles:
Athimadhuram powder is considered to be a one-shot remedy for all sorts of respiratory troubles. Having powerful anti-inflammatory, anti-biotic, and anti-asthmatic properties, Athimaduram plays a pivotal role in treating the common cold, cough, and flu symptoms. It also thins and slackens phlegm deposits within the chest and nasal cavities and hence eases breathing and helps the body to get rid of mucus. It is also beneficial in treating bronchitis and asthmatic conditions. Daily intake of this herb strengthens the lung tissues and enhances lung health. 


Mix 1 tbsp of

Athimadhuram powder along

 with honey and infuse it in water. Take this kadha regularly to alleviate allergic

 

asthmatic conditions.
In case of sore throat, mix 1 tbsp of

Athimadhuram powder

,  sitopaladi churna, and honey in a glass of lukewarm water. Have this twice a day, to reduce coughing, inflammation, and irritation of the throat.
Treats Gastritis:
The potent anti-inflammatory and immune-boosting properties of glycyrrhizic acid help suppress the toxic bacteria Helicobacter pylori and also prevents it from growing in the gut. In the case of food poisoning, stomach ulcer or heartburn, the root powder soothes the stomach lining and restores the balance. Being a natural antacid, it reduces the secretion of hydrochloric acid in the stomach which in turn decreases gastritis due to acidic irritation and peptic mucosa.
Intake a mixture of Athimadhuram powder, Amla powder, coriander powder, Guduchi powder along with lukewarm water to get relief from gastritis.
Aids In Weight Loss:
The abundance of flavonoids in Athimadhuram powder, helps the body shed excess weight faster. Being loaded with fiber and essential nutrients, when taken regularly, Athimadhuram powder satiates the hunger pangs and prevents overeating and hence can play a pivotal role in one's weight loss regimen. The powder also reduces the accumulation of LDL (i.e. Low-Density Lipoproteins or bad cholesterol) in the body, thereby improving metabolism and helping the body to maintain a proper weight.
Manages High Cholesterol
Touted as a rejuvenating cardio-tonic root, this ayurvedic herb efficiently diminishes the levels of bad cholesterol and triglycerides in the body, prevents the deposition of plaque in the blood vessels, and also deters atherosclerosis(i.e. formation of hardened arteries due to deposition of debris), thus reducing risks of heart blocks, strokes and heart attacks.
For Oral health
Blessed with strong anti-microbial and anti-bacterial properties,Athimadhuram actively participates to reduce the growth of bacteria within the oral cavities and helps in combatting bad breath, reducing plaque, preventing tooth cavities, and keeping the gums and teeth healthy and strong. 
You can brush your teeth using Athimadhuram powder or just have a glassful of Athimadhuram powder water in the morning to uplift dental health.
For Liver
Imbued with anti-inflammatory properties, Athimaduram holds high significance in treating liver anomalies like non-alcoholic fatty liver disease, liver damage, hepatitis, and jaundice. It also helps in soothing the liver and promotes liver functions. Have a cup of Athimadhuram tea every morning to purify the liver and fortify it against infections.
For Hair Woes:
Athimadhuram powder plays a crucial role in promoting hair growth. It effectively increases blood circulation in the scalp and hair follicles, which in turn enriches the roots by bringing in more nutrients through the blood supply and help new hair growth. Ayurveda strongly suggests that the regular intake of Athimadhuram not only cures baldness but also prevents premature greying, sudden hair fall, and different types of scalp infections.
Mix 2 tbsp each of Athimadhuram powder, haritaki, henna, reetha powder in water. Add 1 tbsp of almond oil or castor oil to it. Apply this hair pack evenly onto your scalp and then shampoo your hair. Do it once a week to promote hair growth and prevent premature greying and loss of hair.
For Skin Augmentation:
A powerhouse of antioxidants and healthful nutrients, this rejuvenating herb acts as a key player in treating various skin issues. It efficiently scavenges free oxygen radicals from the body and diminishes oxidative damage. Being a Vata-pitta pacifier, it flushes out the AMA toxins from the internal layers of the skin, promotes overall skin health, and treats various skin infections like eczema, acne, pimples, rashes, boils, etc. When used in the form of cleanser, toner, or spot correcting gels, it reduces hyperpigmentation and dark circles to leave behind spotless glowing skin. Athimadhuram can be used in several ways for uplifting skin health.

Athimadhuram in the form of oil, paste, or gel when applied on eczema patches, provides a cool soothing sensation on the skin. It also helps in reducing itchiness, swelling, and redness in inflamed scratchy skin.

Mix 1 tbsp each of amla and 

Athimadhuram powder

with a spoonful of rosewater or milk and apply it all over your face. Use this face pack on alternate days to improve the radiance of your skin.
In the case of oily skin, it is best to apply a face mask of a paste of

Athimadhuram powder

 along with rose water to control excess secretion of sebum.
In case of dry skin, add 10 drops of

 Kumkumadi thailam

 

in 2 tbsp of

Athimadhuram powder

and smother it evenly on your face to improve complexion, and reduce blemishes and spots.
For Hormone Regulation
Athimadhuram is one such ayurvedic herb that is known for its influence on the adrenal glands. The phytoestrogenic bio-active substances in Athimadhuram are also extremely beneficial in keeping the hormonal balance, battling menstrual cramps, and providing relief from mood swings, hot flashes, depression, insomnia, sweating, etc during the menstrual cycle. Prescribed Athimadhuram powder even helps new moms to regulate the hormones and increase the production and secretion of breast milk.
For Immunity:
The enchanting ayurvedic herb holds high worth in improving the general stamina and energy level of the body. The bio-active ingredients in Athimadhuram reduce general debility, weakness, and fatigue and improve the vitality of the body. The anti-microbial property of Athimadhuram helps to bolster immunity and shields the body from various microbial infections. It also improves the function of the liver, kidney, and adrenal glands which in turn helps in reducing stress levels.
For Cognitive Abilities:
Athimadhuram is one such traditional remedy that has potent brain-boosting properties. The powerful antioxidants and flavonoids present in the sweet root of the licorice plant improve the memory capacity, concentration, focus, calmness, and alertness of an individual. Being a potent Medhya Rasayana herb, Athimadhuram improves memory power, reasoning, problem-solving, and other cognitive abilities. The neuroprotective elements in the plant prevent loss of memory and relieve the mind from stress and tension.
Take 2 grams of Athimadhuram powder by infusing it in warm milk to improve memory power and prevent the risk of several psychotic diseases like epilepsy, dementia, and  Alzheimer's.
For Ulcerative Colitis:
Intake a mixture of Athimadhuram powder, amla powder, and giloy satva powder by infusing it with honey and water.
For Diabetes:
The Athimadhuram powder contains a potent phytoestrogen compound called glabridin which not only imparts the sweet taste to the root but also plays a crucial role in assuaging the blood sugar levels of the body. The production of insulin from the β-pancreatic cells becomes active in the consumption of Athimadhuram powder. Adequate dosage of the powder also helps to reduce the breakdown of starch into glucose and hence manage diabetes.
For Ulcers:
The anti-inflammatory properties of Athimadhuram powder hold high significance in treating different types of ulcers like ulcerative colitis, peptic ulcer, canker sores or mouth ulcers, etc. The bioactive compound carbenoxolone plays a crucial role in healing mouth and gastric ulcers. It also helps to speed up the healing process in the inflamed mucosal layer and reduce the risk of ulceration.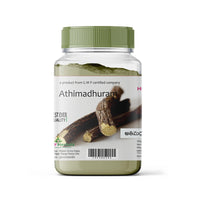 Athimadhuram powder - 100g
Rs. 260.00